Case Studies
AUTOMOTIVE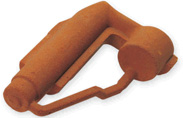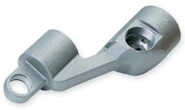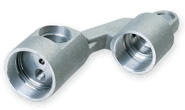 CHALLENGE:
Create a new aluminum sand casting for building of Nitrogen-energized racing shock system for major snowmobile manufacturer.
RESULTS:
A 356.2 Sr modified heat treated to a T6 condition (on site).
Complex core geometry to complete passage.
100% pressure tight casting.
500 psi operating pressure.
Machining completed including swivel bearing installed to a .0005″ fit.
Anodized coating added as required.
Customer success was reached because of single house responsibility for casting tooling, machining an fixture building in-house then completing 4000 sets.

HIGH & LOW VOLTAGE APPLICATIONS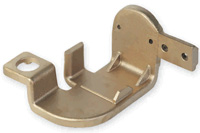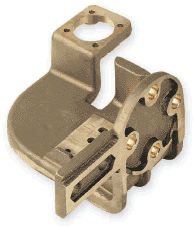 CHALLENGE:
Construct new casting to eliminate three previously assembled parts. Pass all design and testing criteria for current carrying casting in Aluminum Bronze Alloy CDA 95200.
RESULTS:
Alloy achieves excellent U.T.S. of 75,000 p.s.i. and corrosion resistance.
Casting Unique Parting line and outside coring.
Machining: three planes supporting contacts, mounting and interrupter feature.
Ship 150/month Cast and machined.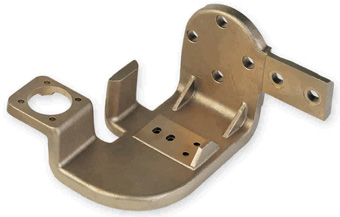 HIGH PRESSURE FLUID HANDLING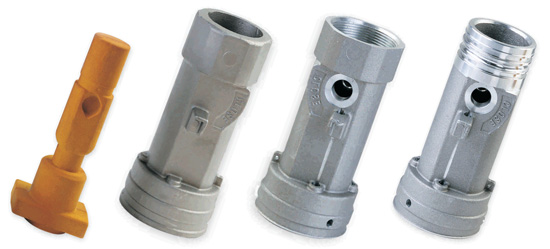 CHALLENGE:
Gravity permanent mould aluminum casting for non-drip recoupling application. Operating pressure – 250 p.s.i.
RESULTS:
Allow A356.2 T6 Cores accomplished as material web inside part.
4 "O" ring seal surfaces .32 micro-finish or better.
100% pressure tight Anodized coating applied.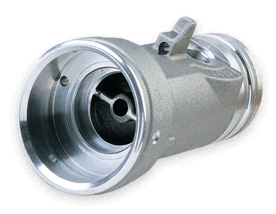 MARINE
We have been retained by a major manufacturer of marine hardware products to cast and machine 50 different products used in commercial fishing applications, including:
Steering systems
Net handling devices
Propeller retaining nuts
These are all manufactured in Manganese Bronze C86500 assuring highest strength and corrosion resistance in salt-water environments.
HEAT EXCHANGERS
We are in production of these 3 cast and machined and pressure-tested bronze manifolds.
These products were converted from in-house soldered fabrications. The cost savings are obvious. These items are supplied on a Kanban pull system.
PLUMBING
A major plumbing manufacturer retained us to assist in the re-engineering of a cast and machined valve body that reduced mass of the existing design by one-half pound, creating a material savings of $ 2.25 per piece. Annual usage is 100,000 pieces.
We generated prototypes and pre-production pilot runs, then took the product into full production.